The One Stop Cloud Solution to Your Strategic Business Problems
What is SAP S/4HANA Cloud?
Delivered as a SaaS solution, S/4HANA Cloud aims to create this modern digital core that incorporates the benefits of Cloud along with the strength of the SAP S/4HANA Cloud in-memory platform.
This offers the opportunity to streamline IT, lower total cost of ownership, scale infrastructure as needs evolve, and access the latest SAP applications on demand.

With SAP S/4HANA Cloud in action, SAP is providing a new generation of business applications going from simple enterprise software to Big Data and AI. This feature scope description explores the features and services that are available in SAP s 4hana
Industry-Specific Solution for Your Industry
SAP S/4HANA, cloud ERP for service, is helping customers address complex business needs, regardless if the demand is in any industry vertical or a geographical footprint like divisions, companies, subsidiaries, etc., or with the issues of localization and specific legal regulations mandated across some countries. Many customers face implementation challenges, considering all these additional variables.
With sap s 4hana, we can help our customers by providing packaged business content to address the challenges of industry verticals, a specialized line of business, and geographical scope, using the best business practices and ensuring legal and fiscal compliance in different countries.
The best practices encapsulated in this cloud ERP are the outcome of years of experience acquired by SAP by functioning with many customers over the years in implementing SAP solutions. It delivers value and reduces implementation time and TCO.
Fully integrated ERP solution (finance, sales, procurement, production, warehousing, quality, research & development, projects, etc.)
Matchless integration to SAP, non-SAP, cloud & on-premises solutions
Embedded Analytics gives a real-time operational view
Embedded intelligence with anticipated analytics and machine learning
Best-in-class UX (Fiori) with stable experience across the portfolio
Cloud ERP Integration and Extensibility
SAP S/4HANA Cloud ERP Unlocks New Efficiency with Intelligent Automation
This cloud ERP combines end-to-end best practice processes with Intelligent Technologies to drive efficiencies.
Discover
Data-driven decisions
for measurable revenue increase
React
Exception-based notifications with insight-to-action options
Automate
Multiple RPA bot (attended + unattended) and workflows for execution. Machine Learning supported process automation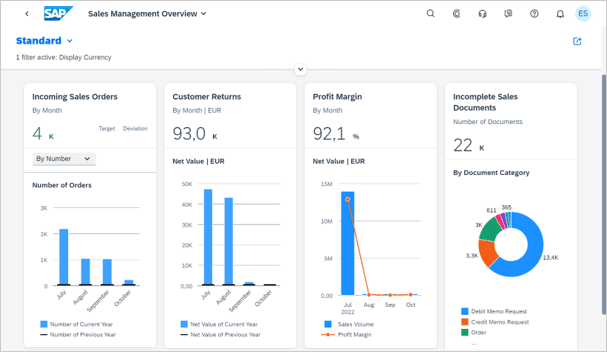 S/4HANA Cloud, Public Edition
Information Technology
90% lower in IT costs & 10% improvement in IT operations

Reduce your total ownership costs with less IT costs, minimized risk, and a path for futuristic enterprise digital transformation. Improved savings in hardware maintenance costs and improvement in IT operations.

Finance
50% reduction in time needed to close monthly accounts

Streamline and enhance all your finance processes, right from accounting to cost management and enterprise risk to compliance with ap s4 hana finance modules. With intuitive, consumer-grade user experience on every device, you get 360° insights.
Sourcing & Procurement
Reduction in purchasing order duplicacy & 60% automation

Simplify operational purchasing, automate contract management and sourcing, and streamline your procurement processes. SAP S/4HANA Cloud delivers near-real-time insights into organizational spend, suppliers, and market information.
R&D & Project Planning
Improved processes for product development & reimagined contact to cash processes

Gain transparency across the product lifecycle – from R&D engineering to your post-sale service. With connected digital solutions and advanced PLM tools, you can unlock new value from your offerings. Comprehensive logistic controls, resource management, safe handling, & efficient product lifecycle management.
Supply Chain
Increase the inventory turnover rate by 30% and reduce the turnover time


Handle your biggest supply chain challenges by exploring the key capabilities of SAP S/4HANA. Provide more accurate commitment dates, live inventory management, integrate transportation management and streamline your warehouse management.
Production Planning
Choose between consumption-driven, order-driven, or forecast-driven MRP types

Our Cloud ERP lets you plan and schedule your production with a real-time eye on capacity constraints. With forecast-driven MRP, you can easily spot and predict your bottlenecks, fine-tune your plan, and accelerate faster.
Quality Management
Accurately assess quality standards with material and production lot inspections

Now are the days, businesses are specifically looking for strict quality control and end-to-end visibility across their manufacturing operations. With the latest AI technologies and in-memory database, you can easily identify and act rapidly on Quality Management issues.
Maintenance Management
Eliminating a daily 3 hours manual asset management processes and removing human errors

Dive into a new world of maintenance planning, scheduling, and execution with S/4HANA integrated maintenance management ERP software. You can connect material management and plant maintenance functionalities, monitor costs, analyze damages, and many more.
SAP S/4HANA Cloud Next-Gen UX and Embedded Intelligence
SAP Mobile Start
New UX- Horizon Visual Theme
Embedded Guidance/Support
Continuous Innovation with Intelligent ERP & In-Memory Data Model
SAP S/4HANA cloud architecture lets you work with the latest technology, such as built-in artificial intelligence (AI), machine learning (ML), robotic process automation (RPA), and analytics, so your business operates better.
SAP S/4HANA version offers customers a variety of ML and AI tools and functionalities like the following:
SAP S/4 HANA Cloud Version for the Intelligent Enterprise
SAP Implementation Methodology
Benefits of Intelligent ERP
Do you know?
Gartner named SAP S/4HANA Cloud as a Leader in its 2022 Magic Quadrant™ report for Cloud ERP for Service-Centric Enterprise.
For growing organizations, intelligent ERP systems act as the digital core of technology resources, guiding employees with actionable information to help steer the business in the right direction.
Speak to our
SAP S/4HANA Cloud Experts Today & Book Your Free Trial!